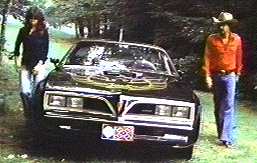 "What's your pleasure Trans Am?" That's my favorite line from
Smokey And The Bandit
. The Bandit has pulled into a gas station where he's asked the question. More people should ask what's your pleasure. You just never hear it these days. Can I help you? What do you want / need? What will it be? But never what's your pleasure.
Who cares about that you say - what's up with you being a
Smokey And The Bandit
fan? It's part of my heritage dude. When I was growing up my role models were my hell raising uncles and older cousins. They were prototypical beer drinkers and hell raisers; redneck to the core. Feathered back mullets and muscle cars were the coolest. Then there was the General Lee, and a knife attached to a cowboy belt with a big silver or gold buckle, this was the ideal I was given so I naturally rebelled. Punk rock was the dividing line.
More random thoughts for the day:
I'm really digging
Rob & Big
on Mtv. "It is what it is" is the best catchphrase since "Dyno-mite!"
Leonard Pitts has an
excellent column
about Gerald Levert and why it's a good thing to beg sometimes.
If you're a fan of old school Nashville rock and roll circa early 80's then you need to visit this
website
chock full of MP3 goodness. You can even make requests.
The great economist Milton Friedman is dead. Now the great director Robert Altman has joined him. I wonder who'll be next.